What Is Rotary?
"Whatever Rotary may mean to us, to the world it will be known by the results it achieves." – Paul Harris, Rotary Founder
Announcement:

Parade Registration due June 15th.
Paul Harris, born on April 19, 1868, in Racine, Wisconsin, was an American attorney and the founder of Rotary International, the world's first service club organization. After completing his law studies, Harris moved to Chicago, where he established his law practice in 1896. As a young lawyer, Harris sought to create a professional group that fostered camaraderie and facilitated networking among businesspeople in a manner that transcended the traditional boundaries of social and professional circles. His vision came to fruition on February 23, 1905, when he, along with three other businessmen, formed the first Rotary club. Named after the group's early practice of rotating meeting locations between members' offices, Rotary quickly gained momentum and expanded its scope beyond mere networking to include community service and humanitarian initiatives. Paul Harris served as the president of the Rotary Club of Chicago during its first year and later became the president of Rotary International, guiding its growth and evolution. His leadership, dedication, and vision laid the foundation for the global impact that Rotary continues to have today, with thousands of clubs and millions of members working together to create positive change in their communities and around the world. Paul Harris passed away on January 27, 1947, but his legacy lives on through the transformative work of Rotary International.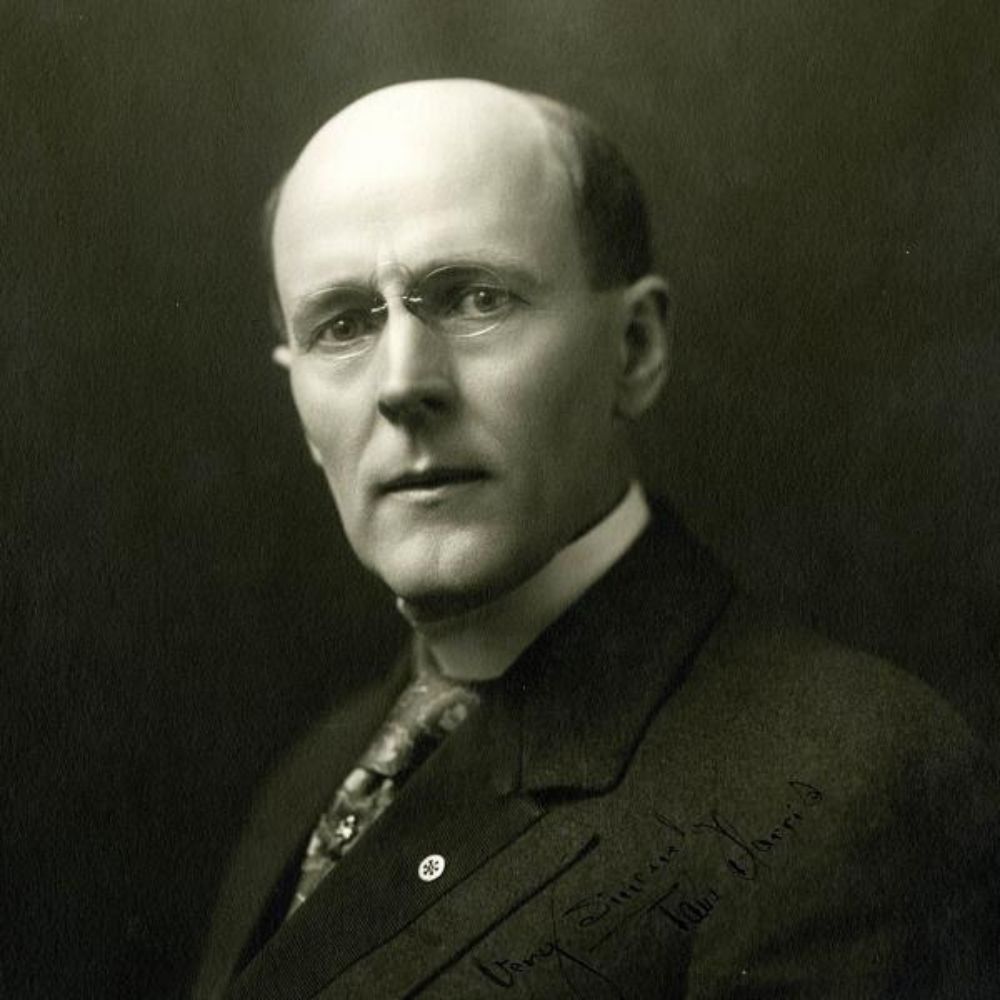 Paul Harris, Rotary Founder
We connect people. Through Rotary clubs, people from all continents and cultures unite to exchange ideas and form friendships and professional connections while making a difference in their backyards and around the world.
We think differently. Our members' diverse and multidisciplinary perspectives help us see challenges in unique ways. Members apply their leadership and expertise toward addressing social issues – and finding unique solutions.
We solve problems. For more than 110 years, we've bridged cultures and connected continents to champion peace, fight illiteracy and poverty, promote clean water and sanitation, save mothers and children, grow economies, and prevent diseases.
We transform communities. Each day, our members pour their passion, integrity, and intelligence into club projects that have a lasting impact. We persevere until we deliver real, long-term solutions to the issues facing our communities.
We transform ourselves. Through Rotary, our members are exposed to new thoughts, professions, and opportunities to broaden their perspectives. From weekly meetings and club projects to fundraisers and networking events, our members develop skills that help make them better, individuals, community leaders, internationalists, and humanitarians